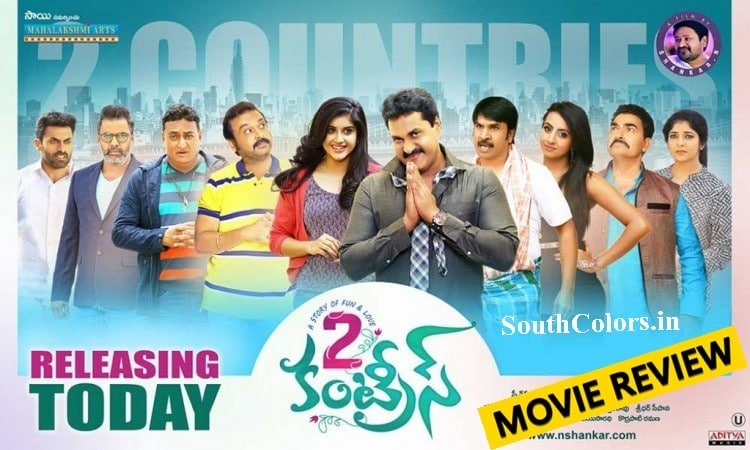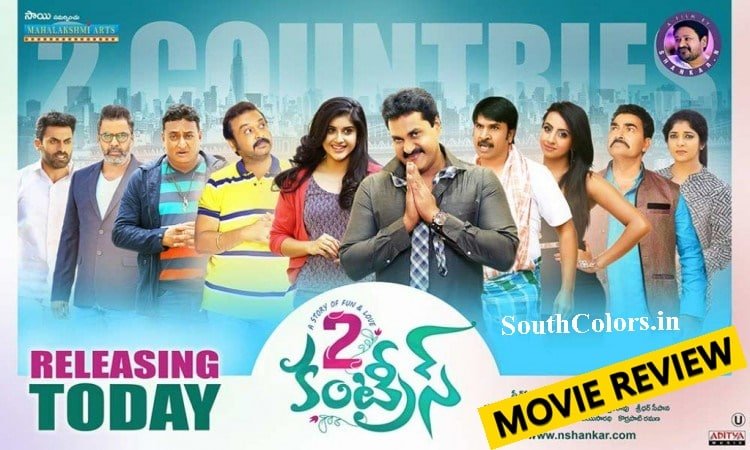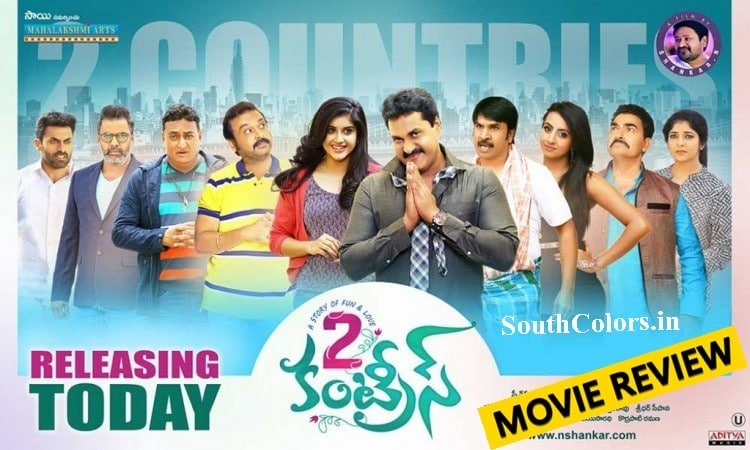 2 Countries Telugu Movie Review: The Telugu Director N Shankar's 2 Countries Movie featuring Sunil and Manisha Raj in the lead roles has received mixed reviews and average ratings from the audiences. The film 2 Countries is an official remake of Dileep and Mamta Mohandas-starrer hit Malayalam movie of the same title, which is a romantic comedy entertainer. Besides direction, Shankar has written the screenplay and produced the film under his banner Mahalakshmi Arts. This flick has received a clean U certificate from the censor board and it has a runtime of 2.39 hours.
2 Countries Telugu Movie Review Hit or Flop Public Talk
Movie Name: 2 Countries
Movie Cast: Sunil, Manisha Raj
Director: N.Shankar
Music Director: Gopi Sunder
Production Company: Mahalakshmi Arts
Release Date: December 29, 2017
2 Countries Telugu Movie Story:
The 2 Countries Telugu Movie is about a 30-year-old guy, who wants to earn money without any risks and he makes a living by deceiving people. He decides to marry a rich NRI girl in a bid to settle down with her in Canada, but his life takes a turn when he learns that she is a chronic alcoholic. What happens next forms the crux of the story.
2 Countries Telugu Movie Review:
2 Countries Telugu movie about a useless guy who becomes a responsible husband to cure her alcohol addiction. She always misunderstand everything he is done to her and he never gives up with that and try to change her. Director N Shankar, who is also the producer of this movie failed in making this movie an entertaining ride. The first and foremost reason for his failure is bad writing which fails to engage the audience or make the audience laugh.
Having someone who can make the audience laugh so easily, N Shankar failed to bank on that aspect of Sunil. Sunil, who is fading, should have okayed a better script with the better director to score a decent hit. His desperation to score a hit resulted in this movie and it backfired. Director has failed to get good writing which in turn spoiled actors performance and which in turn made the whole work of team look silly. To sum up, 2 Countries is another failure to Sunil.
Cast and Performance:
Sunil as Ullas Kumar is good. He tried to bring laughter to the audience but failed. As a husband who is pained by some harsh truth, he is good in those emotional sequences. Manisha Raj as Laya is good. She as an alcohol addict managed to play her character well. Shayaji Shinde is good but in a brief until. Naresh and Raja Raveendra are fine. Prudhvi is humorous so as Srinivasa Reddy. Jabardasth comedians did a fine job and all other actors are okay.
Technical Departments:
2 Countries movie have decent production values and Gopi Sunder's songs and background score and C Ramprasad's beautiful cinematographing, Kotagiri Venkateswara Rao's editing and AS Prakash's art direction are the attractions on the technical front, say the audiences.
2 Countries Movie Final Verdict:
Director N Shankar has adapted this hit Malayalam with some minor changes in the screenplay to suit the tastes of Telugu audiences. The first half of the film has nothing new to offer but assures you entertainment. However, some twists and turns make the second half interesting and engaging, say the viewers.