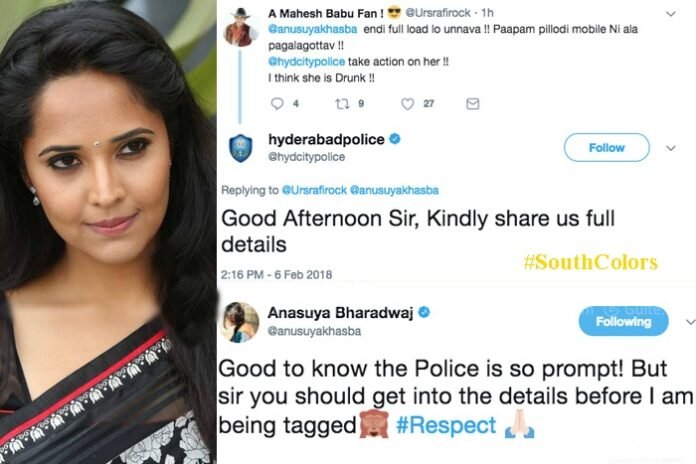 Everybody got to know the news of Anchor Anasuya Bharadwaj snatching the phone of a kid who tried to take her picture and smashing it to the ground. Looks like is not done with this controversy and started posting Anchor Anasuya satires on Hyderabad City Police For Tagging Her in Social Media.
Responding on the kid's mother accusation of breaking the phone and using cuss words on them, Anasuya Bharadwaj tweeted, "Not that the country needs such news.. but.. to those whom I am answerable.. #facts I am sorry her phone broke but i think its not fair that i should be blamed for what i remotedly didn't.. we owe our privacy ".
The lady filed a complaint over Anchor Anasuya. On the other hand, an angry person tweeted against the anchor by asking the police to check whether she was drunk because of her rude behaviour at that time. Replying to this, Hyderabad Police tweeted that, "Good Afternoon Sir, Kindly share us full details".
Irked by this reply from Hyderabad City Police, she replied sarcastically saying, "Good to know the Police is so prompt! But sir you should get into the details before I am being tagged #Respect". This is sure to stir up a new headache for her. These type of satirical tweets shouldn't cross the line as it may end up getting her more wrath from people and police.
Anasuya Satires on Hyderabad City Police For Tagging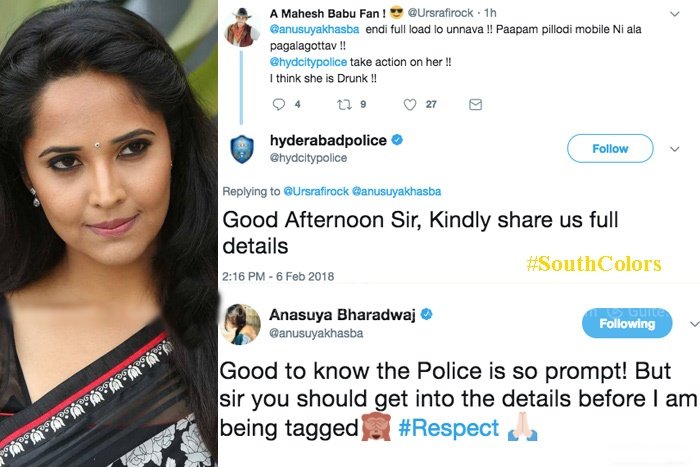 Now according to the latest update, Jabardasth TV show Anchor Anasuya Bharadwaj Twitter account has been deactivated. Her fans, who are trying to search her Twitter Page handle @anusuyakhasba, are being directed to a screen with the message: 'Sorry, that page doesn't exist!'. Not just Twitter, the anchor turned actress has completely exited from Facebook and Instagram. It seems she is trying to escape criticism from netizens.