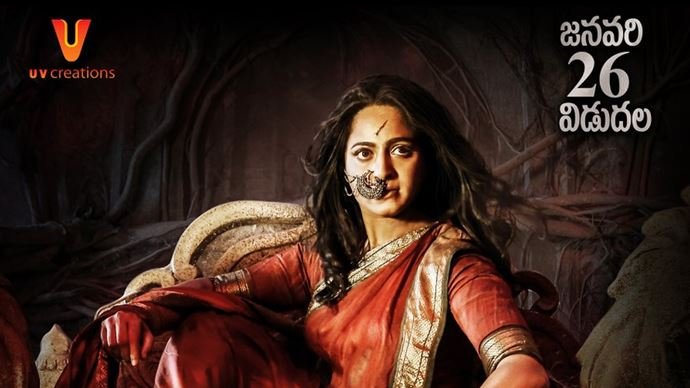 Bhaagamathie 2018 Movie starring Anushka Shetty, Jayaram, and Unni Mukundan which is gearing up for a grand release on 26th January 2018 and received positive reviews and ratings from viewers. Bhaagamathie is a contemporary horror thriller director G Ashok has also written the story, screenplay and dialogues for the movie, which has been produced by V Vamsi Krishna Reddy and Pramod under the banner UV Creations. Check out Bhaagamathie Movie Review & Rating Below.
Bhaagamathie Movie Review & Rating Hit or Flop Talk
Title: Bhaagamathie (2018)
Star Cast: Anushka, Unni Mukundan, Jayaram
Director: Ashok
Producer: UV Creations
Releasing on: 26 January 2018
Bhaagamathie Movie Story:
Bhaagamathie (Anushka Shetty) is an IAS officer busy doing welfare works. During one of her visits to a village, she gets attracted to young leader Shakthi (Unni Mukundan) and falls in love with him. The twist in the tale is she lands in jail for some reason.
Some influential politicians occupy a palatial bungalow, which is haunted by the spirit of a lady. They get Bhaagamathie released from jail and put her in this haunted house. What happens next forms the crux of the story.
Analysis: G Ashok has chosen an interesting story and created an engrossing screenplay for Bhaagamathie. The first half of the movie is a routine romance drama and has nothing fresh to offer. The twist before the interval gives some momentum to the story. The second half is interesting, and some chilling moments make it a nail-biting watch, say viewers.
Performances: Actress Anushka Shetty has delivered a brilliant performance which is the highlight of Bhaagamathie Movie. She is sure to stun you once again after Arundhati. Jayaram, Unni Mukundan, Asha Sarath, Prabhas Sreenu, Dhanraj, Murali Sharma, Thalaivasal Vijay and Vidyullekha Raman have done justice to their roles, and their performances are also among the assets of the movie, the viewers have said.
Technical: Bhaagamathie Movie has brilliant production values all over. SS Thaman's stunning background score, R Madhi's picturisation, Ravindra's art direction, bone-chilling special effects, and dialogues are attractions on the technical front, say filmgoers.
Final Verdict: The Bhaagamathie film is one of the best made ever in the history of Telugu cinema in terms of technical values so it deserves to be a good hit.