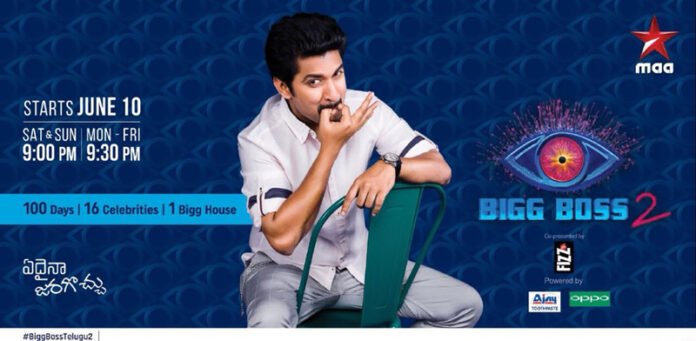 The First season of Bigg Boss Telugu went on to become super successful in Telugu states and the makers are now gearing up for the start of the Bigg Boss Telugu Season 2. Last Season time young tiger NTR stole the show with his exceptional anchoring and natural star Nani is replacing in Bigg Boss Telugu Season 2 Telecast From June 10th, Nani revealed via a poster on his Twitter page on Tuesday. 
The pilot episode of the Bigg Boss 2 season will be aired on Star Maa on 10th June at 9 P.M. The show runs throughout the week from Sunday to Saturday with timings changed on weekends. It will be aired at 9 P.M. on Saturday and Sunday and at 9:30 P.M. from Monday to Friday.
There have also been few changes in the show as the celebrities' stay in Bigg Boss house was extended from 70 to 100 days. Also, 2 or 3 common men will be on the contestants' list along with Tollywood celebrities.
The first season Bigg Boss was telecast on Star Maa from July 16 and saw participants like Archana, Sameer Hasan, Mumaith Khan, Prince Cecil, Aadarsh, Hari Teja, Siva Balaji, Jyothi and jostling for the trophy. Nani said that there will be 16 participants this time as well and they'll be locked inside the Bigg Boss house for 100 days. The participants for the second season are yet to be revealed.