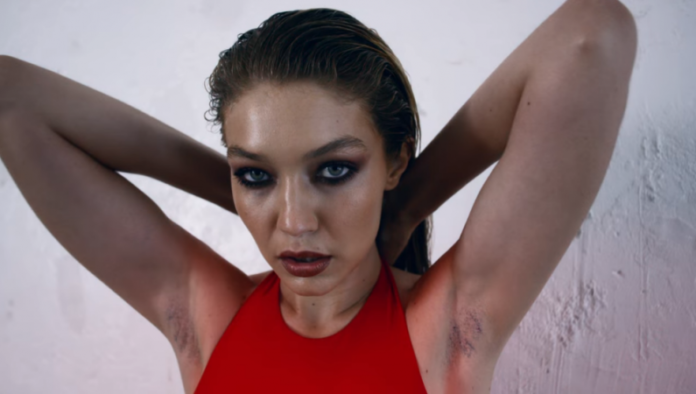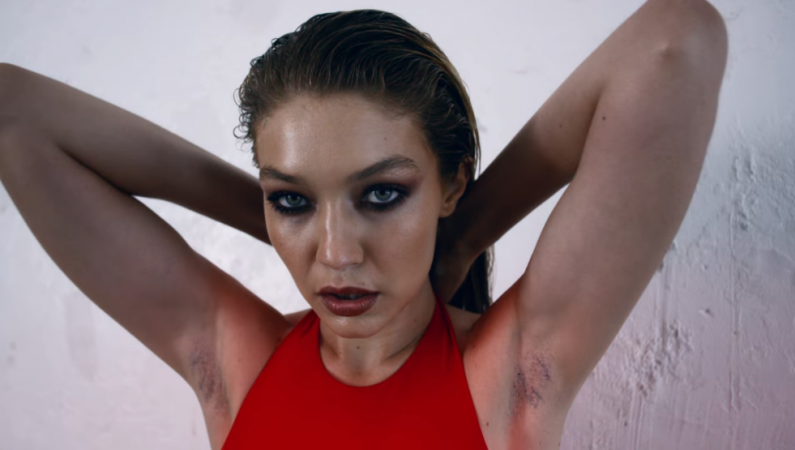 Another epic Advent calendar from Love magazine anticipated calendar is definitely making an impact on the internet. For the eleventh day of December, aka "free-form day," we've got Gigi Hadid showing off her boxing skills, volleyball moves, and high kicks in a sexy, short video directed by Phil Poynter.
Dressed in a deep red sports bra and matching tight shorts from her Tommy x Gigi collection, the main focus quickly shifts from her workout sesh and attire to something a little more unexpected: her armpit hair.
Yes, the 22-year-old supermodel went for the au naturel look and although her underarms flashed onscreen only very quickly several times, screenshots aplenty have been taken and ignited a social media frenzy. You can see under her arms just a bit of fuzz from the new growth in her pits.
The theme of this year's calendar is to remind women to #STAYSTRONG. The end of the video shows a quote by Hadid, "It's celebratory of epic human beings and always pushes boundaries. The Love Advent kind of feels like a holiday yearbook in a way. Headmaster grand style."
We're all for dispelling beauty myths and find it refreshing to see Hadid going for the body-hair acceptance movement. Heck, her pits look a lot like many other women's do right now. While Gigi's video has been getting plenty of applause from fans online, it is worth noting that while the pit hair does challenge beauty standards, Hadid is still thin, white, and conventionally attractive.
This takes nothing away from the statement Love was trying to make, but the "embracing body hair" movement does tend to center around white women. Sure, Hadid is pushing boundaries here, but her look is still within our society's parameters of what is acceptable.
Gigi Hadid by Phil Poynter #LOVEADVENT2017
That aside, I'm still here for Gigi's addition to the body-hair acceptance movement and hope that more women — whether they fit mainstream society's standard of what's beautiful or not — will embrace their body hair in this way.