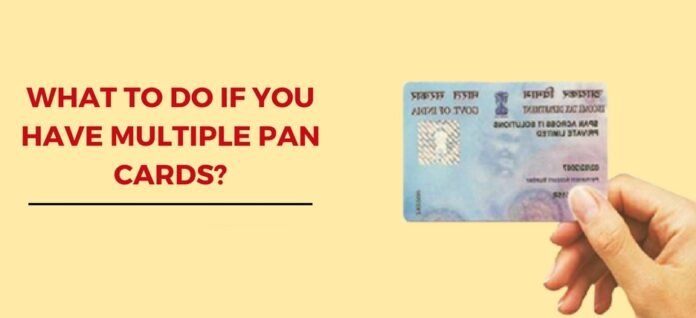 Some people intentionally apply for more than one PAN card to apply for loans if their credit history linked to the previous PAN card is bad. Some also hold multiple PAN cards to reduce their tax liability by splitting up their income. The Many people also land upholding multiple PAN cards unintentionally. But whatever may be the reason, holding multiple PAN card is illegal as per law.
The Income Tax Department may levy a penalty of Rs 10,000 on you under Section 272B of Income Tax Act 1961 if you fail to comply with the provisions of section 139A, which includes holding multiple PAN cards, tax experts say. With mandatory linking of PAN card with Aadhaar Number, it is easy to identify cases of multiple PAN cards for the government. PAN card can be surrendered both online and offline.
Online Process to Cancel Multiple PAN cards:
Visit income tax website-https://www.incometaxindia.gov.in.
Go to 'important links' section in the left-hand bottom of the page.
Click on 'Apply for PAN'. It will redirect you to a new page.
On the new page, click on the UTITSL link following which the CSF Form will open.
Fill the details on the CSF form.
Select item no 11 on the form and mentions the PAN card numbers you want to cancel and provide copies of them and submit.
The Offline Process to Cancel Multiple PAN Cards:
You can surrender your multiple PAN cards by filling Form 49A for Change or Correction in PAN and submit the form to the nearest UTI or NSDL TIN facilitation centre.
Also, write a letter to the assessing officer under whose jurisdiction your income tax is filed.
Mention your personal details like the name on your PAN card, date of birth, PAN card numbers you want to surrender.
Send the letter to the nearest tax office.