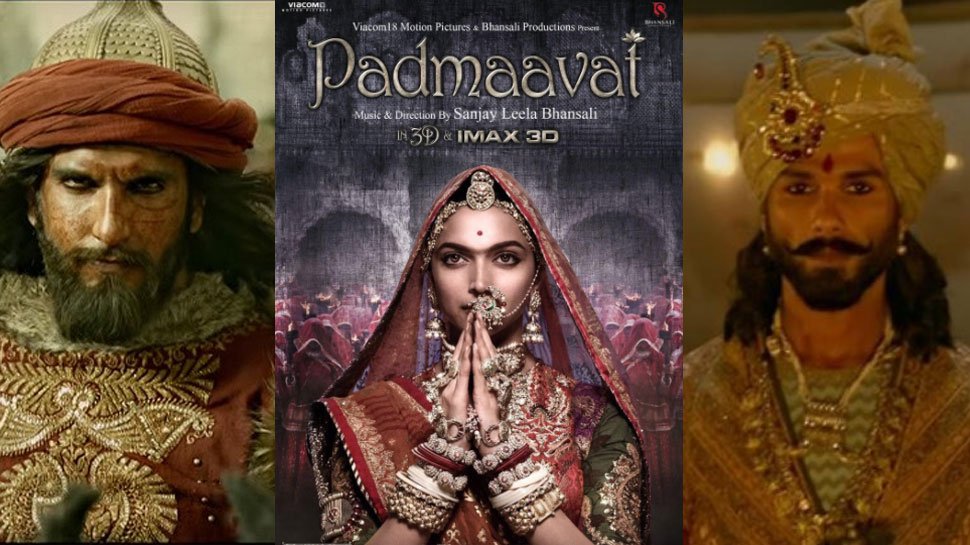 Amid controversies and all the hullabaloo, Padmavati name changed to Padmaavat has finally made it to screens. Sanjay Leela Bhansali's historic film promises visual grandeur and extravagant entertainment ever since the release of the trailer. Let's see how far the Padmaavat Full Movie Review and Rating Below.
Padmaavat Full Movie Review & Rating
Cast: Deepika Padukone, Ranveer Singh, Shahid Kapoor
Director: Sanjay Leela Bhansali
DOP: Sudeep Chatterjee
Editor: Rajesh G Pandey
Music: Sanjay Leela Bhansali, Sanchit Balhara
Banner: SLB Films, VIACOM
Padmaavat Movie Story:
Rani Padmavati (Deepika Padukone) – the wife of Maharawal Ratan Singh (Shahid Kapoor), is known for her beauty and valour in 13th century India. She captures the fancy of the reigning Sultan of Delhi, the tyrant Alauddin Khilji (Ranveer Singh), who becomes obsessed with her and goes to great lengths to fulfill his greed.
Padmaavat Movie Review:
Take a bow Sanjay Leela Bhansali for withstanding every humiliation in presenting history honestly. The filmmaker literally takes us back into a period to witness that chronicles of our ancestors without which history would have been different. Padmaavat is that legendary tale that would make not just Rajputs but every Indian proud. The movie is masterpiece and epic in every proportion. Padmaavat is technically top-notch in every aspect. Production design, costumes, filming and the original score everything is on larger than life canvas. Performances of actors in the scrupulously designed characters make it an overwhelming cinematic experience.
Padmaavat educates how Rajputs abides by ethics and principles while invaders took advantage and cheated. The film also gives a glimpse of how Rajput women are revered as Padmaavati intervenes in state affairs and Ratan Singh respects her decisions while Khilji ill-treats his wife. The invader is shown a coward often breaking the rules to win by hook or crook and erases the history for he didn't exist in it.
Padmaavat Movie Screenplay:
The first half focuses more on establishing the cruel character of Allaudin Khilji. Romance and relationship between the lead pair are concise. All this on a colossal scale with spellbinding visuals. Padmaavati's character takes charge in second half. Her wisdom is more a beauty and on a hunch, she could behead miles away from the enemy. Audiences are kept engaged throughout with Bhansali mark drama and there are some surprises twists too. There are many adrenaline rushing and goosebump giving moments.
Padmaavat Technically:
The cinematography is brilliant with a gloomy tone to the subjected despair at the same time showcasing the grandeur when required. Background score is haunting, the sound of melancholy surrounds. VFX is precise. There are no lavish battle sequences or great stunts in this more of a drama driven film. Production design is good at recreating the 13th-century era. The hard work and research that went into making can be seen in every frame.
Padmaavat Movie Cast Performances:
Ranveer Singh is impeccable as Allaudin Khilji, the way he displayed that vanity filled attitude and aggression. Deepika Padukone demands the space through her authoritative screen presence and reintroduces the iconic strong woman character 'Padmaavati' to the generations. Shahid Kapoor delivers subtle performance but speaks volumes just through his looks.
Padmaavat Full Movie Verdict:
Padmaavat Movie is history retold with excellent cinematic experience. Never thought history lessons could be this interesting. It is a best possible way of presenting history in an entertaining way without losing the soul. It is like traveling in time to witness our cultural heritage and overwhelm with pride. Not to be missed once in a lifetime experience.