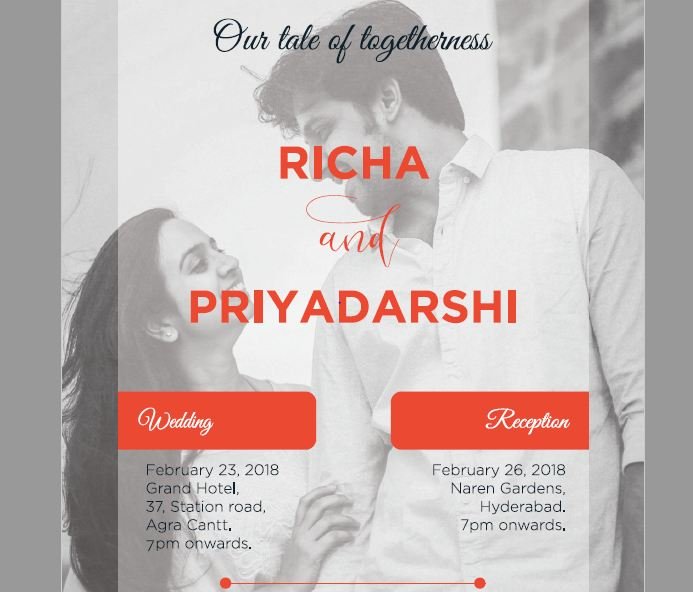 Priyadarshi Wedding Invitation Card: The Speculations were rife since the last few weeks about the Telugu Actor Priyadarshi Pullikonda relationship with Richa Sharma with the wedding rumoured to take place on February 23 in Hyderabad. Priyadarshi had refrained from commenting on these rumours, choosing only to promote his films on social media.
However, on the eve of Valentine's Day, he surprised many by posting an adorable picture of himself with Richa. He wrote, "Dear Love, I sat down to condense my feelings and emotions for you into words and sentences, no wonder I failed. I am sure it takes a million sonnets to write about your beautiful mind and soul and I shall do that day by day, moment to moment for a lifetime. Nothing much I can do but thank the destiny that brought you into my life, a person that matches me inside out. Lets together celebrate the friendship and love that defines us. Happy birthday Richa, my darling Valentine, love you to the moon and back…" (sic)
The comments under the picture shower happiness and love on the actor, happy about him finding his special someone and congratulating him. While many fans remain curious as to when Priyadarshi would be wedded to Richa, the actor refrained from answering.
Actor Priyadarshi will be tying a knot on Friday. Bride Richa is his senior at HCU. The wedding will take place in Agra. A reception will be held in Hyderabad on next Monday. Here we have exclusive look at the wedding invitation card. Priyadarshi is hogging the limelight since Pelli Choopulu. The comedian gave an acclaimed performance as Chef in Awe. On the other hand, his previous outing 'Tholiprema' is ruling the box-office.