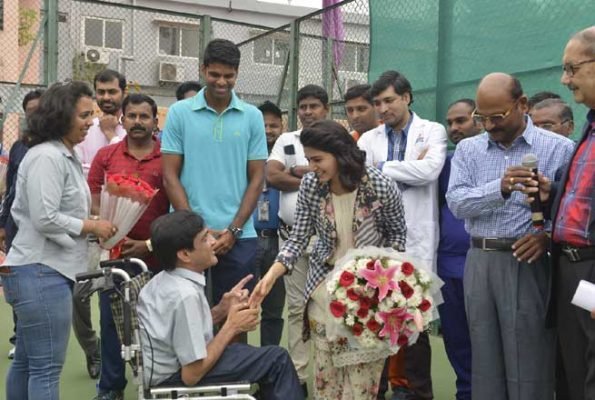 Actress Samantha Akkineni Launched All India Wheelchair Tennis Tournament 2018, For the first time in Hyderabad, under the aegis of All India Tennis Association (AITA) and in association with Telangana State Tennis Association, Indian Wheelchair Tennis Tour (IWTT) is organizing the Charminar Open 2018. The All India Wheelchair Tennis Tournament's opening ceremony is on Wednesday at 9.00am. The opening ceremony will be graced by Chief Guest KT Rama Rao and cine actress Samantha Akkineni.
A wheelchair tennis tournament that brings together some of the best wheelchair tennis athletes in the country. As a tribute to the city of Hyderabad, the tournament is named after one of the iconic historical structures of the city.
The tournament will take place from the October 24-27 from 9:00 am to 4:00 pm at SATS Tennis Complex, LB Stadium, Fateh Maidan, Hyderabad. The tournament is of free entry and people are encouraged to come and watch the grit and determination of India's best wheelchair tennis players. The matches include Singles and Doubles, Mens' and Womens'. 30 players from across the country will be battling for the winner's position. The games are played according to the International Tennis Federation Rules and Regulations.
Samantha Akkineni Launched All India Wheelchair Tennis Tournament 2018