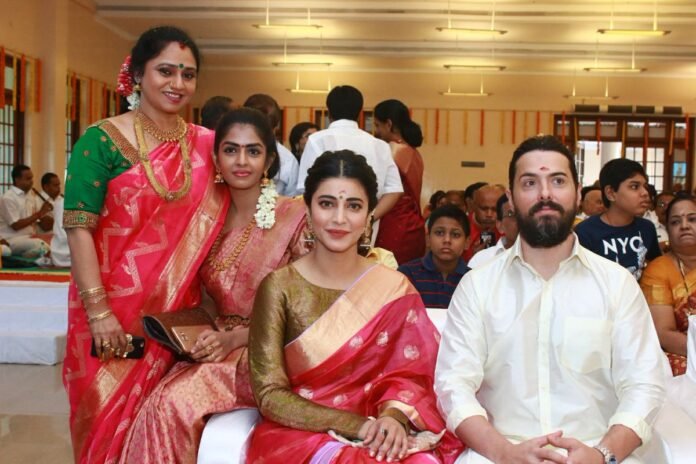 The Hot Actress Shruti Hassan is undoubtedly one of the most talented actresses in the Film industry. When her film career was going through cloud nine, she found her glam life unappealing and unhappy which pushed her to take a break from the industry. She is currently busy as an entrepreneur with her music production house in Chennai. The rumours are rife that Shruti Hassan is in a relationship with London based actor Michael Corsale. Though the diva has been tight-lipped about her personal life, they were spotted together on many occasions.
The stories took a surge when these lovebirds met with Shruti Haasan's mother Saarika. Recently, Beau Michael tagged along Shruti Haasan in a traditional attire to the wedding of Tamil actor Aadhav Kannadasan with Vinodhinie. News broke out that the actress is going to tie the knot soon. However, Shruti Haasan cleared the air with just a single statement in a recent interview.
"I'm not getting married anytime soon but I want my relationship status to be very private. Due to my parents being celebs, my life was never private. That is why I'm protective of my relationship. But don't worry, I'm not exchanging ring or garlands in the recent future. I'm happy with how it is now" said Shruti Haasan, giving utmost clarity about her relation with beau Michael. But what is hurting than this, Shruti Haasan don't want to take up film offers any more as she felt that same routine characters and acts are boring her. What will happen to your fans, dear?