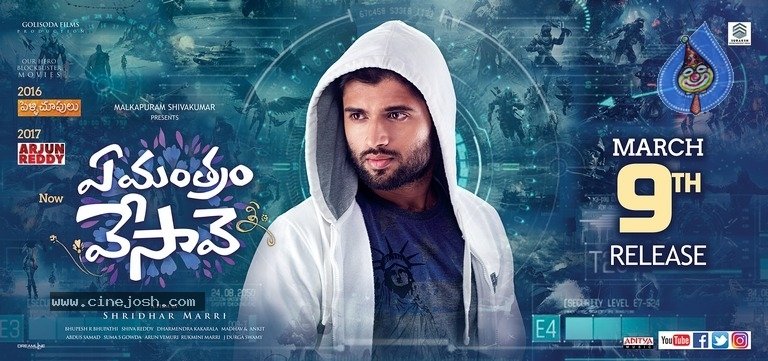 Ye Mantram Vesave Movie Review: The Debutant director Sridhar Marri's Telugu movie Ye Mantram Vesave starring Vijay Devarakonda and Shivani Singh has got mixed reviews and average ratings from the audiences. Ye Mantram Vesave Full Movie is a romance drama, which has been written by Sridhar Marri and produced by Malkapuram Siva Kumar under the banner Golisoda Film Productions. The movie has received a U certificate from the censor board and it has a runtime of one hour and 47 minutes.
Ye Mantram Vesave Movie Story:
Movie starts with the introduction of main charecters, Nikki played by Vijay Devarakonda is big time video game addict, And a flirt as well, Heroine shivani Singh is a video game designer who cares about the society, Now how they meet and how Hero falls into a real-life video game and what villain( Who traps girls online) is actually trying to do and how hero saves heroine is what you have to see on silver screen.
Ye Mantram Vesave Movie Review:
Ye Mantram Vesave is a love story and it is a unique attempt that is different from Vijay's previous movies Arjun Reddy and Pelli Choopulu. But debutant Sridhar Marri has failed in creating an entertaining and engaging screenplay. While watching it you get a feeling that you are watching some short film which has been stretched for 2 hours instead of 20mins, It fails at the making standards of a feature film, makers should have taken care of it as they are releasing it in theaters, Not on youtube.
Performances: Vijay Deverakonda has delivered another brilliant performance, which is the highlight of Ye Mantram Vesave. Actress Shivani Singh is making her acting debut with the movie and she has done justice to her role. Her chemistry with Vijay is good. Komya Virak, Nilakshi Singh, Raja Babu, Asish Raj, Prabhavati, and Deepak have done justice to their roles, say the viewers.
Ye Mantram Vesave Movie Rating: 2/5
Technical: Ye Mantram Vesave has average production values. Abdus Samad's songs and background score, Actress Shiva Reddy's cinematography, stunts, dialogues and selection of beautiful locales are the attractions on the technical front, say the filmgoers.
Verdict: The concept of the Ye Mantram Vesave movie very refreshing and new for the Telugu audience, Though the intended message about social media addiction is appropriate, rest of the film has no cinematic value at all. This backlog film of Vijay Deverekonda, as expected, is a huge disappointment and a speed breaker film in his career.