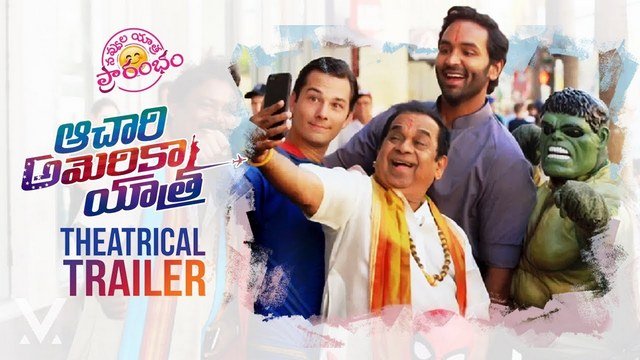 Watch Achari America Yatra movie Official Trailer Released out starring Manchu Vishnu, veteran comedian Brahmanandam, and Actress Pragya Jaiswal. 'Achari America Yatra' is said to be one of the costliest film made in Manchu Vishnu's career. Touted to be a hilarious comic entertainer, the film is directed by G Nageshwar Reddy. The film is being bankrolled by ML Kumar Chowdary and Kittu under Padmaja Pictures Banner. It has the music by SS Thaman. 
The AAY Movie Trailer is packed with hilarious and rib-tickling entertainment throughout and it hints that upcoming drama is a mixer of Manchu Family earlier comedy movies like 'Pandavulu Pandavulu Tummeda' and 'Denikaina Ready'. Nageswar Reddy used the foreign background to generate humour this time.
The Achari America Yatra story is already revealed as Manchu Vishnu will be seen essaying the role of a Brahmin boy Krishnamachari, who is under the guidance of a guru- Achari. Comedy King Brahmanandam will be portraying the role of the Guru Achari. They both go to America. It is all about what Krishnamachari does for her lady love (Pragya Jaiswal) after falling in love. The Achari America Yatra film is scheduled to hit the theaters on 26th January 2018.
Watch Achari America Yatra Movie Official Trailer