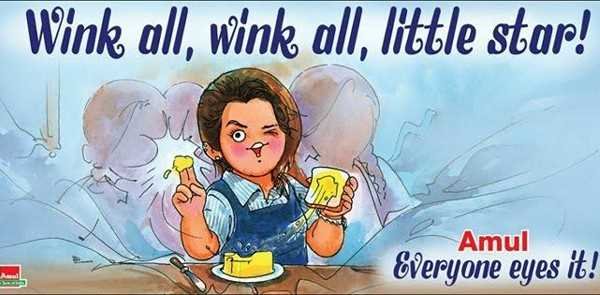 Malayalam actress Priya Prakash Varrier became a star overnight with the wink in the teaser song 'Manikya Malaraya Poovi' of her upcoming flick 'Oru Adaar Love'. Not a surprise, Amul came forward to pay tribute to India's latest sensation with cartoon wink. The caption reads, 'Wink All, Wink All, Little Star'.
'Manikya Malaraya Poovi' song teaser has become so popular that it has garnered over 25 million views within a week. The promo has been viewed over 10 million times on Priya Prakash Varrier's Instagram account alone. Priya Prakash became world famous. Even South African cricketer Ngidi was floored upon watching her adorable video.
He shared the video on Feb 14th and wrote Valentine's Day done. Bollywood Actor Rishi Kapoor predicts huge stardom for Priya Prakash Varrier as she is gonna give others in her age group a run for their money. 'Mere time mein naheen ayeen aap! Kyon? Lol,' he adds. The Internet Sensation finds the word of praise from 'Prince of Romance' an absolute honour.