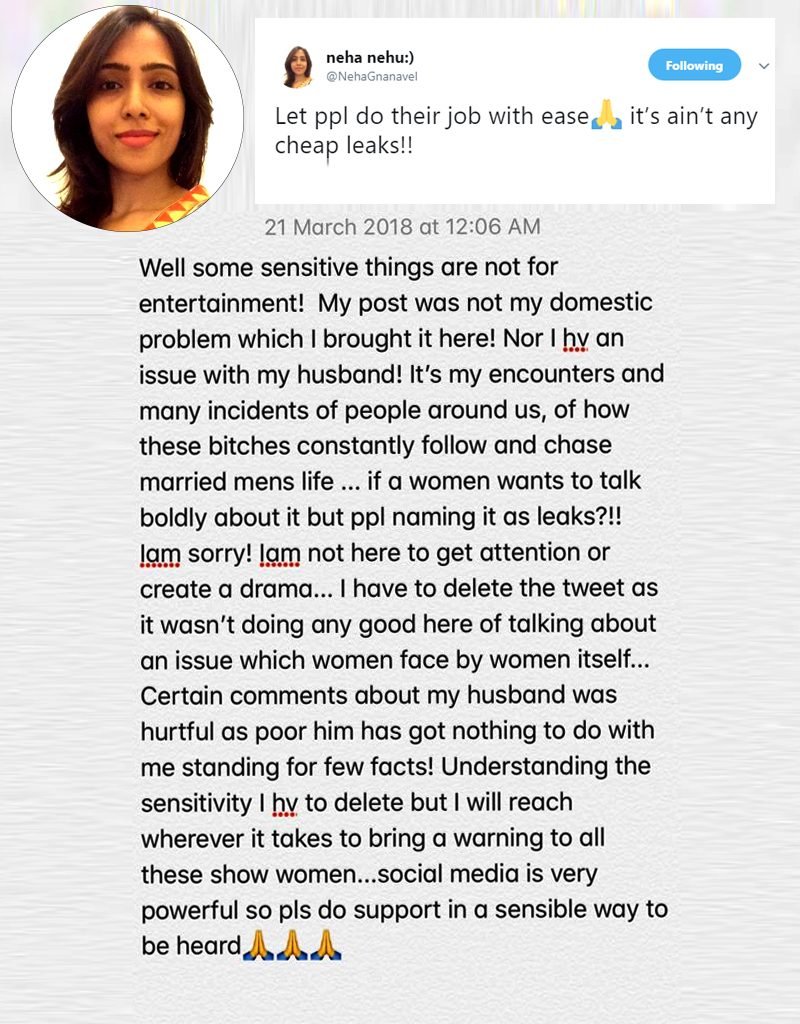 On a shocking note, The popular producer Gnanavel Raja on the news for the sensational comments, made by his wife Neha. Producer Gnanavel Raja, known for bankrolling projects like Thaanaa Serndha Koottam and Singam 3, is one of the most well-known personalities in Kollywood. He is also known for being vocal about the issues in the Tamil film industry. A few hours ago, Gnanavel Raja Wife Neha made some controversial comments on actresses. She worked as costume designer for the film Singham 3.
On 21 March, Neha took to Twitter and called the heroines worse than sex workers. She lashed out at the actresses and called them 'home wreckers' and 'bed ready'. Neha also threatened to expose those actresses who allegedly stalk married men in the industry.
One of Neha's tweets read, "Beat the bitches like a dog in public. I have the list of such heroines and will expose them soon. I have no issues with my husband but it is because of several incidents around me, I am here to share these."
Neha posted this.
"Well some sensitive things are not for entertainment! My post was not my domestic problem which I brought it here! Nor I by an issue with my husband! It's my encounters and many incidents of people around us, of how these bitches constantly follow and chase married mens life … if a woman wants to talk boldly about it but ppl naming it as leaks?!! lam sorry! lam not here to get attention or create a drama… I have to delete the tweet as it wasn't doing any good here of talking about an issue which women face by women itself… Certain comments about my husband was hurtful as poor him has got nothing to do with me standing for few facts! Understanding the sensitivity I by to delete but I will reach wherever it takes to bring a warning to all these show women…social media is very powerful so pls do support in a sensible way to be heard."
Though Neha immediately deleted the tweets, here are the screenshots that went viral on the internet. we have to see how Kollywood Industry is going to react to these controversial statements.