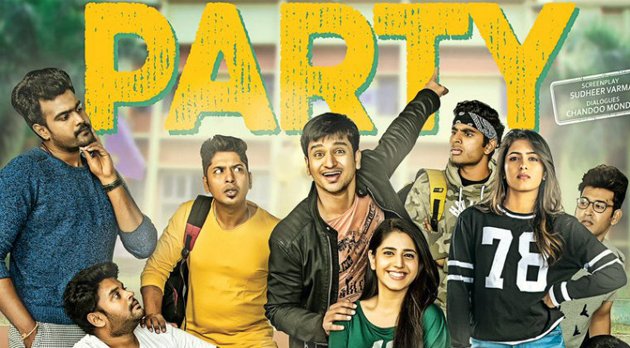 Kirrak Party Movie Review: The Director Sharan Koppisetty's Kirrak Party Telugu movie starring Nikhil Siddharth, Simran Pareenja, and Samyuktha Hegde has received positive reviews from the audiences. Kirrak Party is a remake of Rakshit Shetty's 2016 hit Kannada film Kirik Party. It is a romantic comedy set in college campus backdrop. Ramabrahmam Sunkara has produced the movie under the banner AK Entertainments. The movie has got a U/A certificate from the censor board and it has a runtime of 2.32 hours.
Release date: March 16, 2018
Southcolors Rating: 3/5
Starring: Nikhil, Simran Pareenja, Samyuktha Hegde
Director: Sharan Koppisetty
Producer: Anil Sunkara
Music Director: B. Ajaneesh Lokanath
Editor: M. R. Varmaa
Kirrak Party Movie Story:
Krishna (Nikhil Siddharth) is an engineering first-year student, who falls in love with final year student Meera (Simran Pareenja). Meera is a daughter of a police officer and a writer of a book on sex workers' life. She gets close to Krishna and they become good friends. As the story progresses, she dies after accidentally falling from the window of her hostel room. What happens next forms the crux of the story.
Kirrak Party Movie Review
Kirrak Party is no different from our regular college backdrop movies showing engineering students lifestyle, Movie is good in parts with few boring scenes, Nikhil has played his part well, Few comedy scenes are good, Love story between main leads is also shown well, But it lacks the freshness, Only Nikhil should know what made him remake this. Though we can't call it a total bad attempt the movie could be a lot better, Maybe it lacks the originality which Kirik Party had.
Performances: Nikhil Siddharth has delivered a good performance, which is the highlight of Kirrak Party. Simran Pareenja and Samyuktha Hegde have done good jobs and their chemistry with the hero is good. Rakendu Mouli, Viva Raghav, Brahmaji, Hanumanthe Gowda and Raghu Karumanchi have also done justice to their roles, say the viewers.
Technical: Kirrak Party has good production values and Ajaneesh Loknath's songs and background score, Advaitha Gurumurthy's beautiful picturization, and Chandoo Mondeti's dialogues are the main attractions on the technical front, say the filmgoers.
Kirrak Party Movie Rating: 3/5
Final Verdict: The Kirrak Party is no different from routine college backdrop movies, a Decent movie that feels disjointed till the climax! Nikhil's rage was a treat to watch. He conveyed so much through his eyes and body language with almost no dialogues! The film is a bit lethargic with a flat narration and that might work against it! Overall, it is an OK film for the targeted audience.