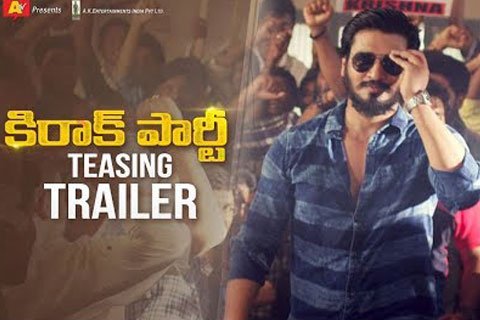 Kirrak Party Teasing Trailer: Actor Nikhil Siddharth adopted in his profession is that his selection of divergent scripts with better quality in content. As a result, most of his films like Happy Days, Swamy Raa Raa, Karthikeya, Ekkadiki Pothavu Chinnavada, and Keshava scored hits. Having worked for a few crime thrillers for the past few years, Nikhil Siddharth preferred a complete youthful entertainer with college backdrop through Kirrak Party.
The Kirrak Party trailer, which was unveiled today, appeared to be a replica of Nikhil's Happy Days. Most of the experiences of college students such as backlogs, fights, mass bunk, lungi dances and youthful mass elements appeared to have nicely embedded in the film. This one-liner story might have been made on a theme of rifts between seniors and juniors of a college which also showcases a love story between hero Nikhil Siddharth and Samyuktha.
Watch Kirrak Party Teasing Trailer
Ramabrahmam Sunkara of AK Entertainments is the producer. Directed by Sharan Koppisetty the film's dialogues are written by Chandu Mondeti and screenplay is penned by Sudheer Varma. Simran Pareenja and Samyuktha Hegde are the female leads.