The multi-talented Lakshmi Manchu has mocked the Bharatiya Janatha Party (BJP) with a witty tweet and this is going viral. The BJP has won the Assembly polls both in Gujarat and Himachal Pradesh. But, it's a clear indication that the people of Gujarat aren't extremely happy with Modi's drastic steps like Demonetization and GST.
Though Amit Shah had confidently said that BJP will win 150 out of 182 Assembly seats in Gujarat, it has to adjust for 99 seats. Acting on the same, the netizens have started spreading a viral message saying people of Gujarat have deducted 28% of GST and gave the BJP 99 seats in the Gujarat Polls.
Tollywood actress Lakshmi Manchu, who found it interesting had shared the same on her Twitter handle.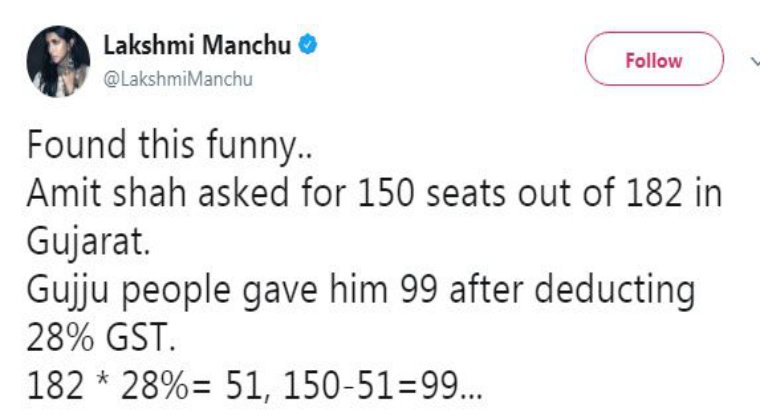 In her tweet, Manchu Lakshmi wrote that BJP president Amit Shah asked 150 seats for the party in the just-concluded assembly elections. But Gujarat people voted in favour of 99 seats. Here is the twist in the tale, the people considered GST seriously and so they deducted 51 out of the 150 seats asked.