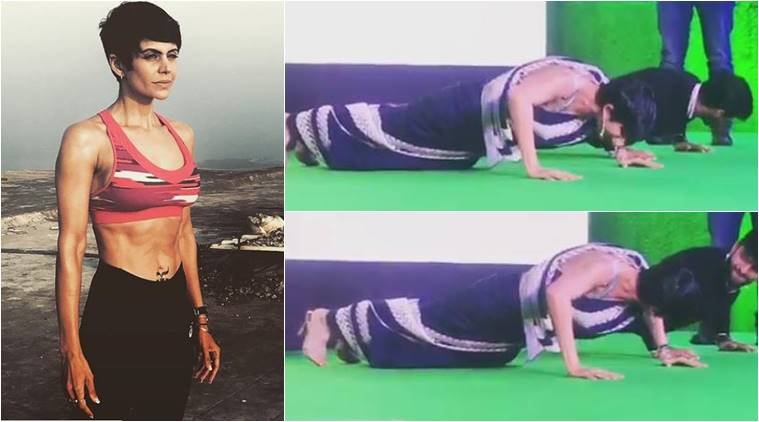 The Bollywood Famous actress and anchor Mandira Bedi is a fitness freak and many admire her immensely for her passion for fitness and Mandira Bedi has always been giving people serious fitness goals And now again she proved that age is just a number. Yes, Mandira Bedi Doing Push-Ups in saree and sky-high heels and broke all the gender and female body stereotypes.
Yes, you read it right. Mandira Bedi who is very active on social media recently uploaded the video of Mandira Bedi doing push-ups in saree on Instagram. The video soon went viral on the Internet and garnered more than one lac views. Many are going gaga and hooting for her for a great feat. "When the attire didn't matter.. the business had to be done!!," she captioned.
Mandira Bedi Doing Push-Ups in Saree
The 45-year-old, fitness icon has challenged many norms in the past. So doing push-ups in saree was not a surprise. The video has stunned many as forget about push-ups many women find it super difficult to even walk in saree and heels. Mandira Bedi is not the only woman who did a workout in saree.
Yes, Usha Soman- mother of famous fitness icon Milind Soman, did planks in saree and same was uploaded by her son. She was also seen running a marathon alongside her son in saree.The 78-year-old proved that sari is not a limit as she was seen running a marathon session alongside her son in the six-yard wonder and that too barefoot.
On the work front, Hot diva Mandira Bedi who will be seen in Baahubali star Prabhas and Shraddha Kapoor, starrer upcoming action and romantic entertainer 'Saaho', being helmed by Sujeeth Reddy of Run Raja Run fame. Mandira Bedi was last has seen in a movie called Vodka Diaries.