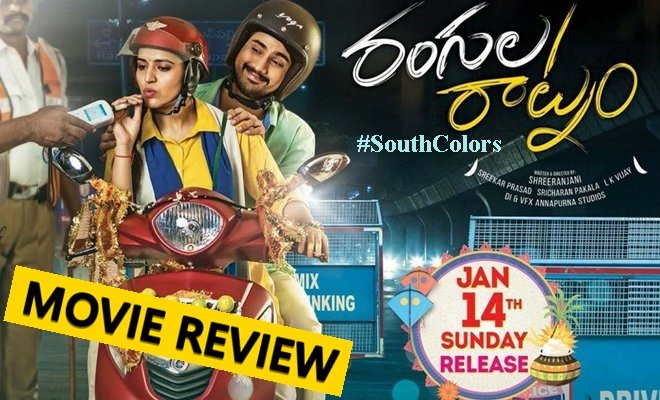 Rangula Raatnam Movie Review: The Tollywood Director Shree Ranjani's Telugu movie Rangula Raatnam 2018 (Rangula Ratnam), starring Raj Tarun, Chitra Shukla, and Pulikonda Priyadarshi, has received good reviews and ratings from the audience. Rangula Raatnam is a romantic comedy-drama high on entertainment and emotional quotient. which has been produced by Akkineni Nagarjuna under his banner Annapurna Studios. The film has been given a U certificate by the censor board and it has a runtime of 2.17 hours.
Rangula Raatnam Movie Review & Ratings
Title: Rangula Raatnam 2018
Cast: Raj Tarun, Chitra Shukla, Priyadarshi, Sitara
Written & Directed: Shreeranjani
Editor: Sreekar Prasad
Music: Sricharan Pakala
Production House: Annapurna Studios
Release Date: 14th Jan 2018
Rangula Raatnam Movie Story:
The story revolves around the romantic relationship between an easy going guy and a bold girl who has taken up family responsibilities at a young age. Vishnu (Raj Tarun) works in a greeting cards company called Emotions with his friend (Priyadarshi Pulikonda). He falls in love with Keerthi (Chitra Shukla), who works with an event management company. But he breaks up with her after seeing her possessiveness. However, he decides to patch up with her after seeing his mom's (Sitara) message. What happens next forms the crux of the film.
Rangula Raatnam Movie Review:
Rangula Raatnam deals with routine romantic drama and offers nothing new. The sentiment in the movie worked out well in the second half while the first half was a little slow. Raj Tarun and Chitra Shukla's roles worked out well while Priyadarshi's character keeps the comedy track going. Sricharan Pakala's music is good and breezy while the background music is a little bit dull.
Rangula Raatnam Movie Rating: 3/5
Performances: Raj Tarun and Chitra Shukla have delivered good performances and their chemistry is the highlight of Rangula Raatnam. Pulikonda Priyadarshi has a meaty role and has done justice to it. In fact, his comic timing is the saving grace of the film. Sitara and others have also done well a job, say the viewers.
Screenplay: The first half of the film is entertaining. Mother sentiment really works and scenes between Raj Tarun and Chitra Sithara will tickle the audience as they appear fresh. Also, the episodes between the lead pair and Chitra Sithara are good. The second half has the conflict. But the director failed to show it in a convincing way and she takes her own sweet time and the climax looks bit dragged.
Technical: Music by Sricharan Pakala is let down. The songs are loud and none are catchy. The background music is adequate. The cinematography is the saving grace here. Coming to the director Shree Ranjani, her inexperience is quite evident. Sluggish screenplay and amateur direction are a big setback for the film. Production values by Annapurna Studios are poor and it's shocking.
Final Verdict: Overall Rangula Raatnam is a Lovely and cool movie with a Superb love story, we can say it will be a real festival winner and perfect for families & youth.