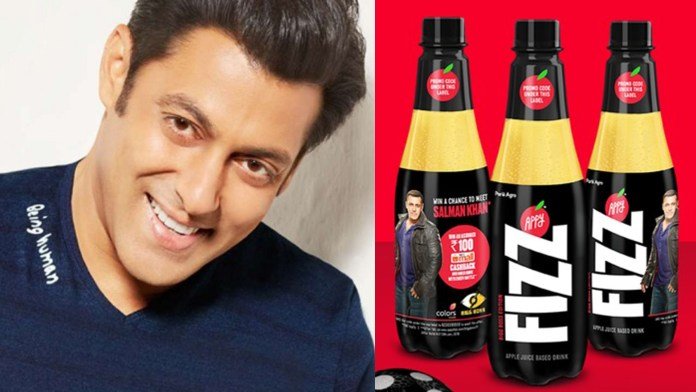 The Beverage company Parle Agro has announced The Bollywood Superstar Salman Khan Becomes New Brand Ambassador for Appy Fizz as it aims to fuel levels of growth far higher than category averages. According to trade sources, Salman Khan will feature in the new #FeelTheFizz campaign for Appy Fizz, sparkling fruit juice drink. Salman Khan's stylish, macho and magnetic attitude is a seamless fit for Appy Fizz's bold and edgy persona and shall help drive far-reaching impact and recall for the brand, the sources said.
Associating with Salman Khan is a part of Appy Fizz's strategic large-scale marketing investments, aiming to further strengthen the brand's connect with its consumers. The brand's recent association with 'Bigg Boss 11' met with huge success, when Parle Agro unveiled a special edition 'Appy Fizz PET' bottle along with the show, giving fans an exclusive chance to meet their hero.
Speaking about the collaboration, Salman Khan said, "I am delighted to come on board as the brand ambassador for Appy Fizz. With the exciting new campaign, I am positive the fans and the brand's consumers will Feel the Fizz!"Nadia Chauhan, Joint MD, and CMO, Parle Agro said. The Bollywood actor Salman Khan will feature in a new Appy Fizz TVC supported by a multi-media campaign which will be rolled out this summer.