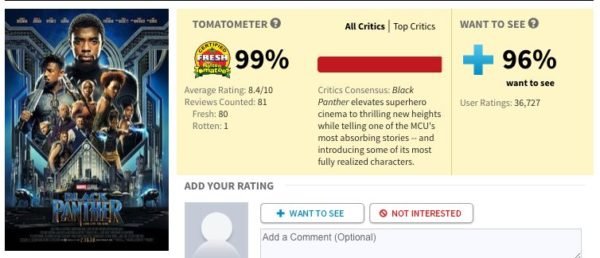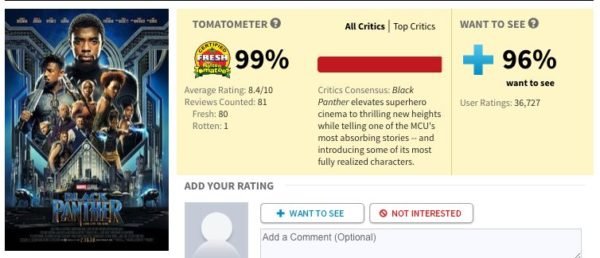 Black Panther, Marvel Cinematic Universe latest offering has set the Tomatometer on fire upon its release from critics. American actor Chadwick Boseman portrays the titular role of Black Panther aka T'Challa, the King of Wakanda in this all-black ensemble movie. The superhero film which is the 18th movie of MCU is already touted to be their best work till date.
Backing the claims is Rotten Tomatoes Score of Black Panther, which has been certified 'Fresh'. The movie based on Marvel Comics superhero, in fact, earned 100% till two bad reviews (out of 83) by the unimpressed movie critics dent its perfect ratings. Black Panther fans, you got to read these negative reviews.
The "Black Panther spirals into a stodgy tale of internecine feuding, in which T'Challa is required to come to terms with the sins of past generations," writes Ed Power for the Irish Independent, giving the movie a 3 out 5. "What he doesn't get to do much of is jump around beating up bad guys. That's a shame."
Going into further detail, Power suggests that Donald Trump plays a role in dragging down Black Panther, writing, "Fourteen months into the Trump presidency, Black Panther arrives on storm-clouds of hype and with the presumption that, as the first African-set Marvel movie, it will deliver a resounding high-kick to prejudice and decades of hierarchy, racial and otherwise, in blockbuster cinema. It is expected to stand for something bigger than itself. The strain is visible, especially in the performance of Chadwick Boseman as Prince T'Challa – the eponymous Black Panther."
Thanks to Donald Trump, Ed Power didn't enjoy Black Panther as much as he could have, and thanks to that, Black Panther now only has a 99% score on Rotten Tomatoes instead of 100%. Of all the awful things Trump has done during his presidency, this one has to be… well, okay, he's actually done lots of worse things, but still, what a jerk!