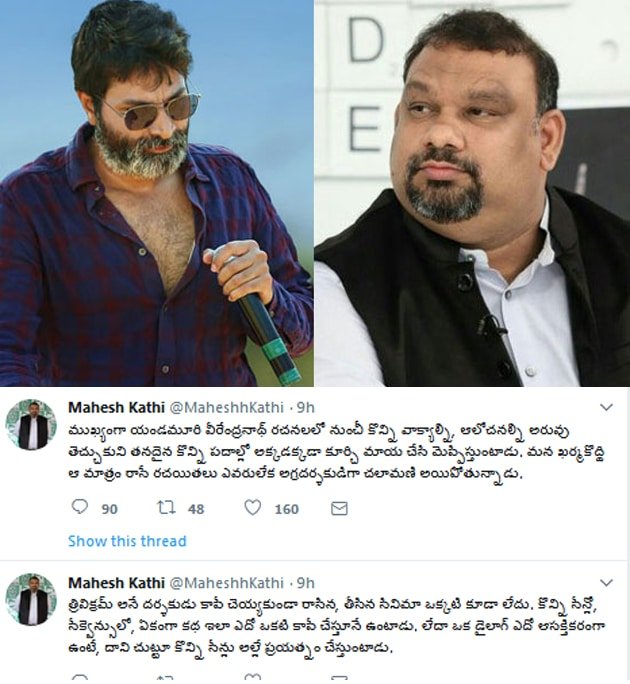 The Telugu Film critic Kathi Mahesh gained decent popularity after the Big Boss stint. By criticising Pawan Kalyan, Jana Sena Party he landed into a tussle with Pawan Kalyan fans. It made him even more popular. Kathi Mahesh is regularly appearing on TV channel debates in the recent past. He never minces his words when criticising, questioning Pawan Kalyan and Jana Sena party.
Coming to the present, Kathi Mahesh appears to have shifted his focus on to Trikiram Srinivas. He termed him as a copy master who didn't make a single movie without copying. He wrote that "There is no single film written, directed by him without copying. A few scenes, sequences, story.. he will copy something.
If there is an interesting dialogue, he tries to build a scene around it. He impresses the people by lifting some sentences.. thoughts form Yandamoori Veerendranath books and presenting them in his own words in a smart manner. Unfortunately, we don't even have writers who can write at least like him, that's the reason why he is regarded as a top director."
Kathi Mahesh's comments on Trivikram Srinivas assumed significance in the social media ahead of 'Agnyaathavaasi' release. Though there were copy allegations on Trivikram Srinivas in the past, no one has made this kind of attack on Trivikram till now. We have to wait and see whether Kathi stops his attack with Trivikram or he continues this with other heroes.. directors as well!