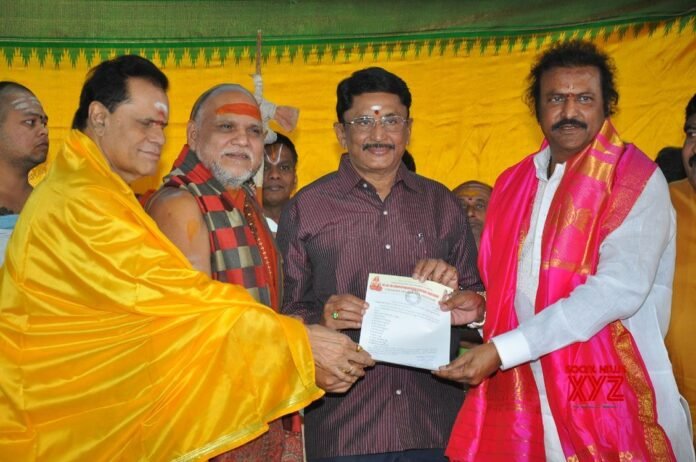 The Tollywood veteran actor, director, and producer Mohan Babu has taken oath as the chairman of Film Nagar Daiva Sannidhanam Temple on Monday. Vizag Sri Sarada Peetham Sri Swaroopanandendra swami has performed special rituals on the occasion. The Congress Rajya Sabha member and 'Kalabhandu' T Subbirami Reddy (TSR) graced the oath ceremony.
Actor and TDP MP Murali Mohan have also attended the event. Addressing on the occasion, Mohan Babu has highlighted about his knowledge on spirituality and said that he will work for the development of temple. Further, he invited the people of the two Telugu states to visit the temple.
After taking over as Chairman of Film Nagar Daiva Sannidhanam Temple Mohan Babu said: 'Since the past six months, T Subbarami Reddy has been pressurizing me to accept the post but I never wished to become Chairman. There shouldn't be any rifts between Brahmins. I have accepted this responsibility for the sake of Devotees. I won't indulge in adharma in the temple premises at any cost'. Saradha Peetham seer Swaroopanandendra Saraswathi graced the occasion as the Chief Guest. The 12-Members of the Board took the oath in his presence.
Mohan Babu Chairman of Film Nagar Daiva Sannidhanam Temple