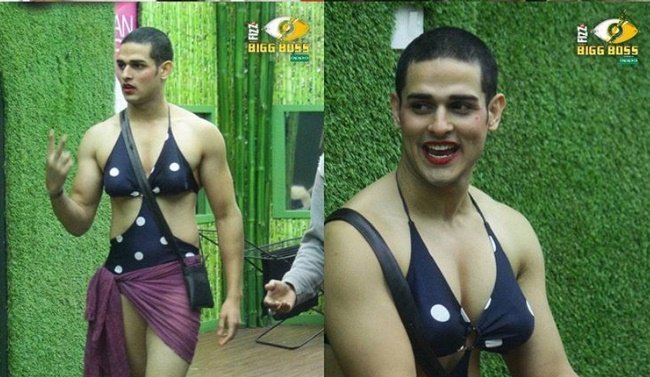 Bigg Boss Season 11's luxury budget task showed different shades of the contestants, especially their funny side. The housemates were divided into two teams –Robots and Karamchari — with Puneesh Sharma helming the task as the 'Mad Scientist Sanchalak.'
Hina Khan, Priyank Sharma, Akash Dadlani and Hiten Tejwani were the robots; while Vikas Gupta, Shilpa Shinde, Arshi Khan and Luv Tyagi donned the hat of Karamchari (workers). It was the responsibility of the karamchari to get specific emotions out of the robots, while the robots tried their best to contain their reactions.
The task was divided into three rounds based on different emotions – Anger, Sadness, and Happiness.Anger was the only thing the contestants were best at, however, Luv took away the cake with his comedy as well. But when it was the other team's turn to do comedy, it backfired.
So, Priyank Sharma wore Hina's swimsuit and had put on make-up, which they thought is a funny thing to do. So Priyank tried to make the other team laugh with his girly behavior. During the task, the Splitsvilla contestant called Vikas 'Guchipu', that is how the producer's mother calls him.
After the task got over, Vikas' team won. Now, the upcoming episode will show that Vikas is extremely angry at Priyank who took his mother's name wearing a bikini. Priyank Sharma will apologize but Vikas is in no mood to forgive. _ ibtimes