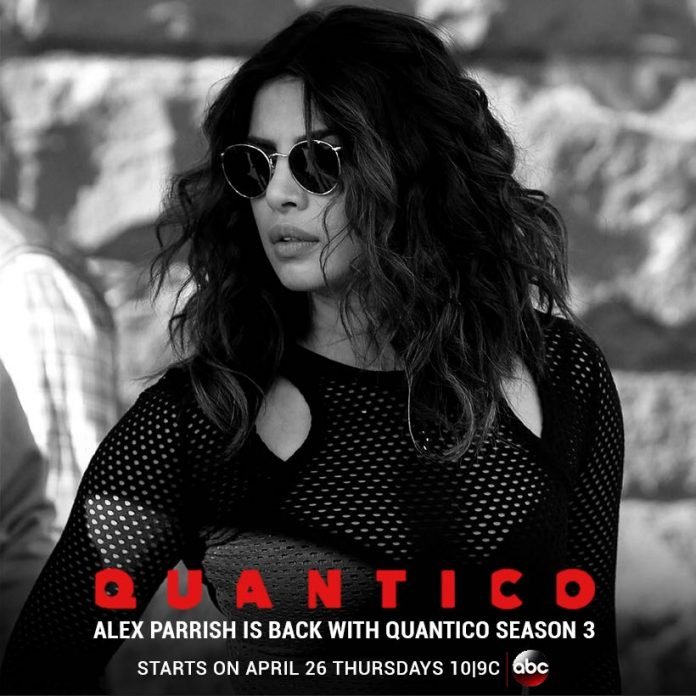 Global star Priyanka Chopra took to Twitter to share her first announcement look for Quantico season 3 which will start airing on ABC from 26 April 2018. Priyanka Chopra had a very successful time with both the earlier seasons of Quantico as it launched her now an ongoing career in Hollywood. Quantico season 1 became a global phenomenon as her wide Indian audience base also subscribed to the show which gave it a global height. Clearly, Quantico is an inseparable part of her career as it gave her entry in a whole new industry thousands of miles from India.
It was the first time when an Indian actress headlined a big budget American TV show and she was the biggest face in the poster. Her character Alex was widely appreciated by western audience and critics and now she is busy with her many international projects. Quantico fame helped her grab the role of the main villain in very hyped Baywatch opposite Dwayne Johnson and Zack Efron. Not many TV shows in the west are renewed for a season 3 because the TV industry is breaking films in terms of producing more content and a wider audience base.
Season 3 will focus on Alex's personal journey as well with the professional leaps that character has taken in a short span of time. Priyanka's last Hindi film was in 2015 by the name of Bajirao Mastani and since than she has not been able to announce her next Hindi film due to her severe commitments in Quantico and films like Isn't It Romantic which is still in production.
The darker side of Alex will be showcased in this season with all the fancy action she performs so effortlessly. Quantico Season 3 is expected to grab one of the highest season-opening audience eyeballs as far as ABC TV shows are concerned and a huge part of the credit belongs to Priyanka's astonishing performance.