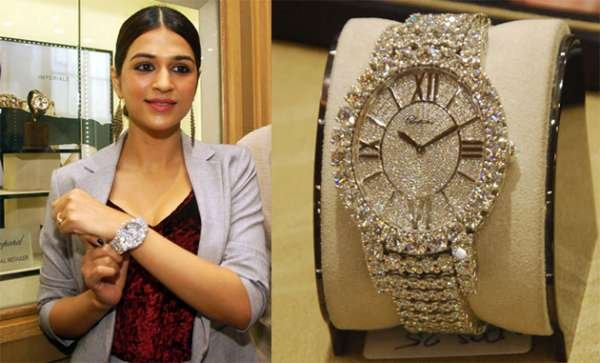 The Hot Actress Shraddha Das is back in news. This time not in connection with films or ad commercials but for a watch. Yes, you read it right. The actress was spotted sporting a luxury watch-Chopard. The cost of the watch is sure to knock you off. The exquisite branded watch is estimated to be worth Rs 2.6 crore. Surprised, isn't it?. So are we, after all, celebrities are known for splurging on luxury items.
The actress was spotted here in the city, at an event in Jubilee Hills. The actress flew down to Hyderabad for the watch collection pieces launch here at KWC Luxurio by Kamal watch store.
KWC Director Niraj Total said, "Hyderabad is synonymous with style and luxury watches and we have being experiencing a great demand in the market especially for Chopard since the very beginning. We are glad to launch the luxurious collection at KWC." The exquisite watch price starts from Rs 12 lakh and goes up to Rs 2.6 crore.
Shraddha Das forayed into movies with 'Siddu from Sikakulam', a Telugu flick. She was last seen in blockbuster film PSV Garuda Vega directed by Praveen Sattaru. The actress was also seen in a Bollywood flick but is widely known for her work down South.