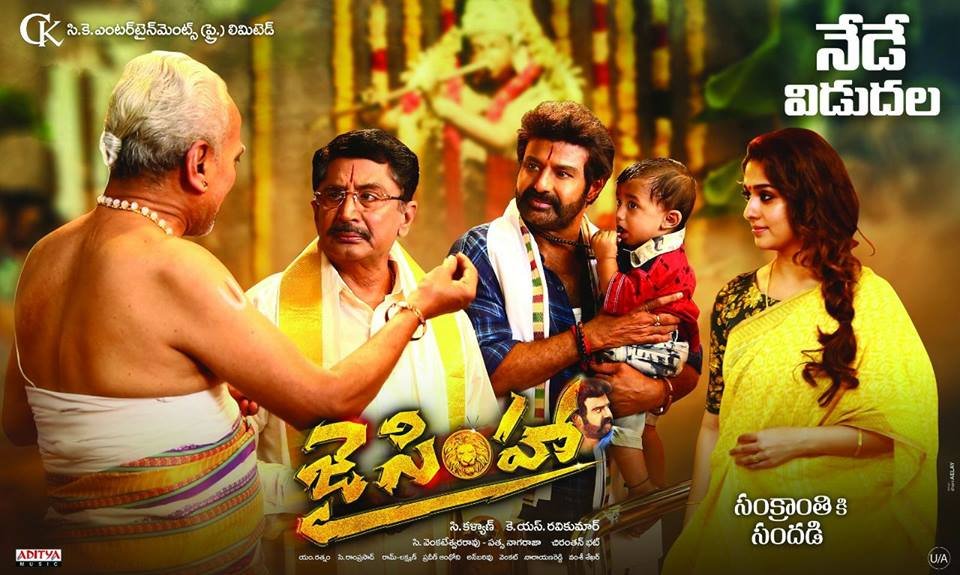 Nandamuri Balakrishna's Jai Simha which has released during this lucrative Sankranthi season. Directed by K S Ravi Kumar, this film has Nayanthara as the female lead. produced by C. Kalyan under CK Entertainment banner. The movie was given a U/A certificate by the censor board and its runtime is 2.45 hours. Jai Simha has received good reviews and ratings from the audience. Jai Simha has risen barometer of success once again for this Sankranti season. Let's see Jai Simha Movie Review out to be.
Jai Simha Movie Review & Rating
Title: Jai Simha (2018)
Star Cast: Balakrishna, Hariprriya, Nayanthara
Director: K. S. Ravikumar
Producer: C. Kalyan
Releasing on: 12 January 2018
Jai Simha Movie Story:
Narasimha (Balakrishna) along with his newborn baby changes the places and moves to Kumbhakonam of Tamil Nadu from Vizag to find some work. He starts to works as a driver for Murali Krishna (Murali Mohan). He involves small issues with local ASP and local goon.
One day, when his son is kidnapped by a goon, he fights to save his son from Kalakeya Prabhakar and gang. Later ASP comes and thanks Narasimha for saving his son but Gowri (Nayanatara) warns him to stay away from her kid. Who is Narasimha? How is Gowri related to him? What is the sacrifice made by Narasimha for Gowri? To get these answers one should watch the movie on the silver screen.
Jai Simha Movie Review: First half of the film is ok. Interval bang is good. The ending portions of the flashback are the heart of the film. Plus points of the film are Nandamuri Balakrishna's ferocious performance and powerful dialogues. On a whole, Jai Simha Movie is a feast for fans and will be liked by masses and Family audiences.
Performance: The film is an out-and-out Balakrishna show. KS Ravikumar has created a character that is in keeping with Balayya's image. The character makes full justice to his style of dialogue delivery and powerful expressions. Balayya has a powerful dialogue delivery and ferocious screen presence while doing serious and righteous characters. He is excellent in fights and his energy levels in Amma Kutty song are superb. Natasha Doshi and Hari Priya lack much scope but did a decent job. Nayanatara as Gowri is superb. Murali Mohan and Brahmanandam are good. Ashutosh Rana, Kalakeya Prabhakar, Prakash Raj and others perform accordingly.
Technical: The Storyline of Jai Simha is predictable with a small twist. The dialogues are good. KS Ravikumar understands the strengths of Balayya Babu and knows how to use them effectively. The director projects Balakrishna's strengths in the right way. Chiranthan Bhatt composes music that suits Balayy's style. Cinematography by C Ram Prasad is good. Editing is fine. The production values of CK entertainments are good.
Jai Simha Movie Rating: 3/5
Verdict: On the whole, Jai Simha Movie is a typical mass masala entertainer in true Nandamuri Balakrishna style. The added advantage of the film is the emotional angle during the climax. The film is clearly aimed at the masses and will do well with all Nandamuri Balakrishna fans. But the roller coaster effect of the film can get to the regular audience at times. this film ends up as a one time watch this festival season.
Jai Simha Movie Public Talk at IMAX Theater