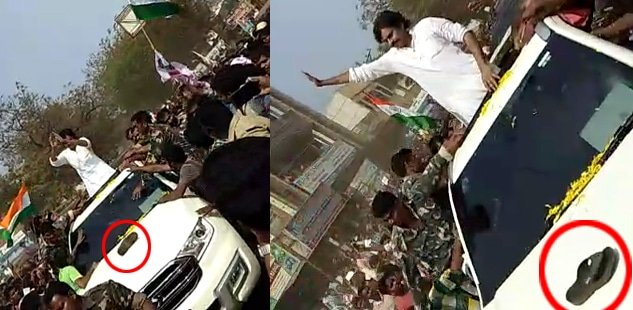 The Jana Sena Party Chief Pawan Kalyan who is in Telangana Political Tour as part of his 'Chalo Re Chalo Yatra'. Pawan Kalyan ended his tour in Khammam today and returned back to Hyderabad. But During Yatra in Khammam A Shoe Attack on Pawan Kalyan had to face distasteful experience today in Tallada of Khammam district when an unknown person threw sandals at his convoy.
This caused a panic amongst the people, but the police swung into action immediately and saw that no untoward incident occurred as a fallout. Speaking to the media, Pavan kalyan said, "the yatra has been very successful and gave me immense satisfaction as I did connect to my party workers directly and made the right path to the strengthening of the party.
Later Power Star Pawan Kalyan had mentioned about the incident indirectly in his address to the supporters and said he will not counter-attack anyone even if they attack him. With uncontrollable crowd thronging the venue of Khammam, MB Gardens, it was highly impossible for anybody to bring order.
Even as Pawan Kalyan walked on to the stage, his fans broke all the barricades and rushed towards the stage. Finally, the unruly crowd made way towards the stage, looking at them, Pawan Kalyan cut short his speech and walked out of the venue.
Shoe Attack on Pawan Kalyan During Chalo Re Chalo Yatra