Renu Desai Twitter Account DELETED: Pawan Kalyan EX wife, actress Renu Desai who recently got engaged to her secret boyfriend, has deleted her Twitter account and the buzz is that she decided to quit the site after being trolled by the power star Pavan Kalyan fans. Recently Renu Desai engaged in Pune and she confirmed this news by sharing engagement pic on social media sites Twitter and Instagram but Ex-wife of Pawan Kalyan kept the identity of her fiancé secret.
Everyone is eager to know about the mystery man, with whom Renu Desai is going to tie the knot. Renu Desai thanked to everyone as she tweeted, "Thank you all my well-wishers for the beautiful messages (sic)."
It looks like that the engagement news of Renu Desai did not go well with Pawan Kalyan fans and they threatened to kill her for getting remarried. Her social media page was flooded with hate and death threat messages. Renu changed the privacy settings of her Instagarm page and now she has deleted her Twitter page. Before deactivating her Twitter page, Renu Desai posted a statement and announced that she is deactivating her Twitter account because of hate messages and threats.
Renu Desai Twitter Account DELETED unable to bear the heat from Pawan Kalyan fans who have been spewing venom at her for deciding to remarry. Today Pawan Kalyan who is on the good terms with Renu Desai sent her congratulatory message. Pawan Kalyan wrote on the wall of Twitter, "My wholehearted wishes to Ms.Renu garu for entering a new phase of happiness. I wish and pray Almighty & the Mother Nature to bestow upon her abundant health, peace, and prosperity."
The Reason Why Renu Desai Twitter Account DELETED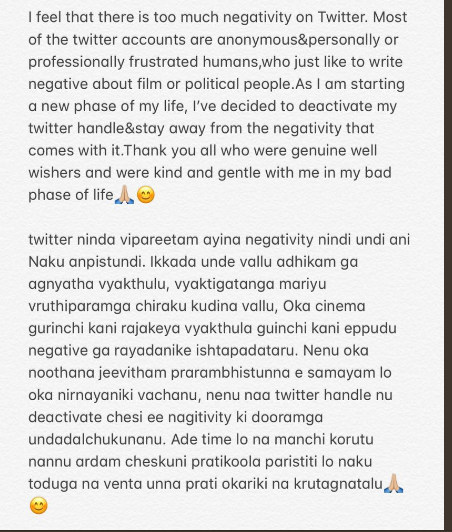 Jana Sena President Pawan Kalyan sent wishes to his ex-wife Renu Desai to put an end to the abusive comments from his fans. Now we have to wait and see whether Pawan Kalyan's tweet on Renu Desai engagement brings any change in his fans?