Pawan Kalyan Congratulates Renu Desai: The Jana Sena Chief and actor Power Star Pawan Kalyan ex-wife Renu Desai has started a new life as she recently got engaged to the mystery man in Pune, the engagement ceremony was attended by family members and close friends. Though Renu Desai confirmed the news of her engagement neither she shared the complete picture of her fiancé nor revealed his name in the post. On the other side, Pawan Kalyan sent her congratulatory message for her remarriage.
Today morning Pawan Kalyan wrote on the wall of his twitter, "My wholehearted wishes to Ms.Renu garu for entering a new phase of happiness. I wish and pray Almighty the Mother Nature to bestow upon her abundant health, peace, and prosperity."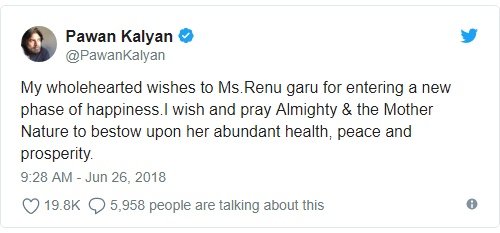 Actress Renu Desai engagement has become a new hot topic of discussion in Telugu Film Industry. According to the reliable sources, Renu Desai came in the contact of her fiancé during the shoot of Pawan Kalyan starrer Gabbar Singh, and after the divorce with Pawan Kalyan, they came close. Few are saying the Renu Desai's fiancé is from Rajasthan. What is the reality, only Renu Desai, and her finance know? A few days ago, Renu Desai posted a romantic poem on her Instagram and hinted that she was in love. She also shared the pic of her holding hand of someone.
Renu Desai and Pawan Kalyan tied the knot in 2009 and they got divorced three years later. The couple has two children together – Akira Nandan and Aadhya. After the divorce, Renu Desai shifted to Pune, where she now lives with her children. Recently it as heard that Akira is going to live with Pawan Kalyan in Hyderabad but Renu Desai refuted the rumours.